Le
Battlegroup 21
est heureux de vous acceuillir dans une nouvelle série de parties PvP
ouvertes au public
.
En coopération avec de nombreuses teams, dont principalement la team anglophone United Operations, ces missions sont ouvertes au public et se déroulent le samedi à deux semaines d'intervalle.
Ce samedi, nous hebergerons une mission de
test
afin d'évaluer la
charge serveur et les performances générales
.
Bien que l'inscription ne soit pas obligatoire, elle est néanmoins
fortemment recommandée
, au risque de ne pas pouvoir acceuillir de joueurs de dernière minute. Début de l'évent à
21h
.
EN
Règles
Pas de
vol
d'uniformes/radio ennemis.
Pas de
solo-play
, sauf si toute votre squad et unités à proximité ont été éliminés.
Obligation d'
obéir à son squad-leader
, sous peine d'
exclusion si refus.
Un comportement
amical et respectueux
est
exigé
sur le ts in In-Game, sous peine
d'être exclu de l'event
.
Rules
Stealing ennemy radios and uniforms is strictly forbidden.
No ''solo'' play, except if your whole squad was KIA.
Obligation to follow your squad-leader.
Friendly and respectful behavior is demanded, both on ts and in game.
Mission
:
Operation Portside
La ville de Berezino est un point clé que convoitent les forces Russes et Américaines, vous avez pour mission de capturer et tenir le maximum de zones possibles jusqu'à la fin du timer (1h30)
The City of Berezino is of highly strategic value to Russian and American Forces in their attempt to strengthen their hold on the island, your task is to capture and hold these zones until the end of the mission timer (1h30)
MISSION AREA
Slots disponibles :
US Army :
Russian Armed Forces
United Operations (50 players)
-----------------------------------------------------------------------------------------------------------------------------------------------------
Repository :
SELECT THE

[BG21] 20/05/2017 Stress Test EVENT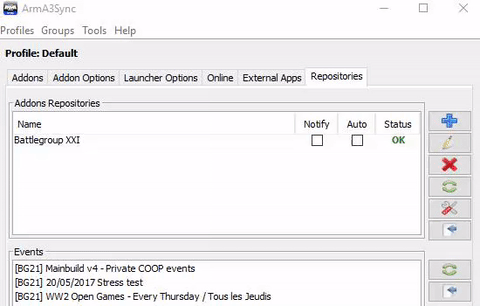 REQUIRED ADDONS
@ace
@BG21_Core
@BG21_Public
@CBA_A3
@CUP_Terrains_Core
@CUP_Terrains_Maps
@RHSAFRF
@RHSUSAF
@task_force_radio

BRIEFING ET SLOTS A COMPLETER